This content is from another website - Click
here
to view on original site.
On May 6, 2021, a national, bilingual service for reporting allegations of sexual abuse, either committed or covered-up by a Catholic Bishop, was launched. This initiative furthers the commitment of the Canadian Catholic Church to responsibility, accountability and transparency in matters of clergy sexual abuse and to facilitate healing and justice for victims-survivors.
At any time, a victim of abuse may contact civil authorities. Dioceses in Ontario are also required to do so if a minor is at risk or the allegation involves a child aged 18 or under.
Why Is This Happening Now?
The Canadian Reporting System for Sexual Abuse or Cover-up by a Catholic Bishop is a direct response to Pope Francis' apostolic letter, Vos estis lux mundi (You Are the Light of the World). In this letter, the Pope calls on the local Church institutions throughout the world (and especially, the dioceses) to establish "...one or more public, stable and easily accessible systems for submission of reports…" With Vos estis lux mundi, the Pope indicates what procedures must be followed in the universal Church when allegations are made against a Bishop. In doing so, he updates, clarifies and standardizes practices around the world. The reporting system for Bishops introduces an additional level of accountability for Church leadership in Canada, alongside the existing local protocols for reporting and responding to sexual abuse or other sexual misconduct by priests, deacons, religious or lay employees or volunteers.
Who Developed the Reporting System and How Does It Work?
ClearView Strategic Partners, a Canadian provider of an independent ethics reporting and whistleblowing platform, was engaged by the Bishops of Canada to develop the reporting system according to the instructions and procedures outlined by the Holy Father in Vos estis lux mundi. This new reporting system is designed to receive and transmit to the proper Church authorities reports of sexual abuse, sexual misconduct (i.e. sexual harassment or possession of child pornography) or the cover-up of such actions by a Catholic Bishop. The ClearView system provides a secure and confidential platform, allowing an individual to remain anonymous if they so choose, and ensures all communications are documented and preserved.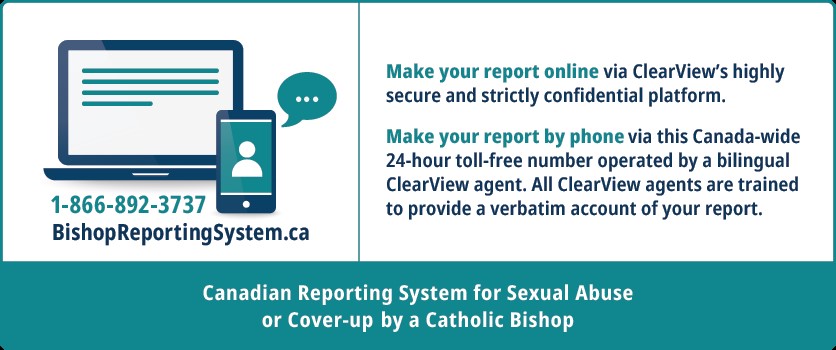 Individuals can access the reporting system online (BishopReportingSystem.ca) or via a toll-free number (1-866-892-3737) from anywhere in Canada, 24 hours a day, 7 days a week, 365 days per year in English or French.
The Catholic Bishops of Canada condemn the sin and crime of sexual abuse in the strongest possible terms. No one should ever have to endure the pain, humiliation and long-term suffering it causes, nor should anyone have to doubt that serious consequences await a perpetrator of sexual abuse or cover-up. With this reporting system, the Bishops make themselves accountable to address reports of sexual abuse according to Church and civil law.
Additional information on the system as well as the Archdiocese of Toronto's procedures for allegations of misconduct against any church representatives can be found here.